I think there are only two things anybody cares about in this world. One, survival. Two, conquest.

Venus Flytrap, "Venus and the Man", WKRP in Cincinnati
I loved WKRP when it ran. It had its big syndication revival the year of college I had before the Navy. Watching "Turkeys Away" is a Thanksgiving tradition.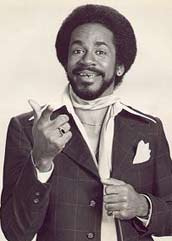 Yet, one of the episodes that has stuck in my head is a serious one. Yes, WKRP was a sitcom, but like sitcoms since the beginning of time it had the occasional serious episode with a message. "Venus and the Man" was one such episode.
Venus is talking to the station's cleaning lady when he finds out he son has dropped out of school. Venus offers to see if he can convince the man to go back to school. At one point the young man confronts him about what value does an education have. He deflects the easy answer, a job, by pointing out there unemployment lines were full of people with educations including college degrees (the episode aired in early 1980).
Venus responds with the quote above. Using that as a jumping off point he gets the young man to agree to return if Venus can teach him about the atom. While he succeeds, and the episode is worth watching for the way he teaches it, Venus later admits the odds of the young man staying are low.
Still, the survival and conquest line has stuck in my head for just shy of forty years.
If you go places where there are poor people and moderately well off people and rich people and the distribution is really steep then the rate of aggressive behavior in young men, and it is usually within their own ethnic group, starts to sky rocket out of control.

Jordan Peterson, "The primordial narrative", Maps of Meaning, 2016 (relevant excerpt)
My introduction to Jordan Peterson is different from most people outside of his students and colleagues. I was directed to his discussion of Pinocchio in the Maps of Meaning, 2017 classes by J. Daniel Sawyer at The Everyday Novelist. Of course, if the lecture to which I was pointed was part of a class, I couldn't just start in the middle of the class. I had to watch from the beginning. I found the lectures interesting enough that I watched more.
More than one person will conclude I am a stupid person because Peterson is a uneducated person's idea of a smart person.
Well, unlike the two people linked above, Peterson has changed my political outlook (although Jeff has influenced my D&D outlook, which may mean more in my everyday life).
And contrary to the New York Times, among others, he didn't radicalize me to the right. That would be hard as I'm much more politically conservative than Peterson. He radicalized me to the left.
Specifically, Peterson got me to care about inequality. He brought the argument to bear that has me thinking it is a problem we need to tackle. However, listening to his discussion, also reminded me of Venus Flytrap.
I wish, I honestly wish, I thought the aggressive behavior issue that maps to the Gini Coefficient could be solved by a guaranteed basic income(GBI). I mean, that idea is so liked even Richard Nixon tried to implement it. Milton Friedman supported it via the reverse income tax, which is an idea I have found palatable at different times in my life. Certainly, if we are to have a welfare system I prefer it to the various mismash of programs we have, often with a strong "dance for me" component.
Regardless of my mixed support for a GBI program, however, I don't think it will address the issue behind Gini Coefficient predictions of violence. Violence committed by poor young men is common in the UK, despite a much stronger social safety net than the US.
Because in the end, a GBI is about survival. Young men, on the whole, are about conquest. You see it in a favorite phrase in the military to describe young recruits, "young, dumb, and full of cum". You see it in lots of literature about young people going out to make their place in the world. Often, probably more often than not, the high Gini Coefficient reflects an inability to get ahead, to gain not just wealth but status for poor young men.
It reflects men trapped with world to conquer. Unlike Alexander the Great they do not weep because they are conquered everything and have no more worlds to conquer.
They rage because they are denied any socially approved method of conquest.
So they turn to socially unapproved one.
That is a waste.
It is a waste of a mass body of young people with the potential to do good things and live good lives. It is a waste of freedom on the part of their neighbors who live in fear. It is a waste of society's resources, money, attention, and cohesion, in increased policing.
We can not solve our problems with the same level of thinking that created them. – Albert Einstein
In the normal course of the essay today, I should propose a solution here.
I don't have one. I'm writing this in the older meaning of essay as a verb: "to make an attempt at; try." I try to find a proposal here, but I find myself still trapped in Einstein's warning. I cannot get beyond political ideas about moving money around.
Moving money around may keep people fed. Like I said, I do not think it provides a chance at conquest in a socially acceptable manner.
I heard the quote in a story. I was introduced to Peterson as an aid to understanding and writing stories. Although I am not interested in heavily dialectical fiction, but all fiction teaches. A story has a moral universe and argues for or against it by the nature of the journey of the protagonist.
These ideas show up in my stories, although in very opauge forms. If I write enough stories, perhaps one of my stories will flow out my fingers with an idea.
I doubt it, but one can hope.
Note on the header image: Today we feature the HMS Triumph, a battleship built in 1903
---