Today is the he Exaltation of the Holy Cross
Today's Epistle is First Corinthians (1:18–24)
Today's Gospel is The the Holy Gospel according to St. John (19:6–11, 13–20, 25–28, 30–35)
D4: They are called Fudge Dice
Bundle of Holding this month features the game system design toolkit that inspired Fate along with a few worked examples. The biggest disappointment is A Magical Medley is not among the items offered.
And yes, the fact people have taken to calling Fudge Dice by the wrong name is a pet peeve.
D6: Poems by Currer, Ellis, and Acton Bell
I did not know that all three Brontë sisters published a volume of poetry. Emily's poem "The Stars" was one of my daily readings this past week.
D8: When I was young we called it a sense of wonder
But "sense of wonder" or "childlike enthusiasm", it is a characteristic worth retaining if you have and cultivating if you don't.
D12: Archeology is suspended for the remainder of 2020
Perhaps we should just not do anything until after Passover.
D20: Design like a psychiatrist
While the good Doctor's same dungeon fits the mold of The Underworld & Wilderness Adventures, and thus is early Gygaxian it takes a different tact that Gary would in his sample dungeon the DMG. Oddly, both do attach to an underground river.
Book of the Week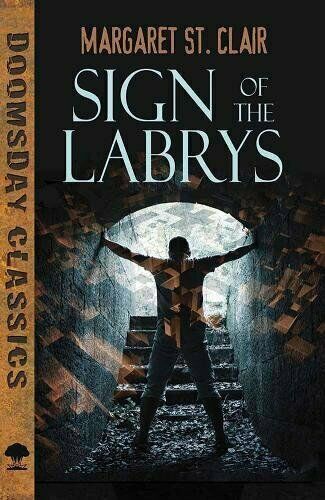 Did you ever wonder if there is a more modern source of the classic D&D dungeon than the Createn Labrynith? If so, you should read The Sign of the Labrys by Margaret St. Clair. St. Clair is no longer read by most people, but she is on the DMG Appendix N, with today's book called out by name. I read it over the summer. It was a quick and fun read. There are strong elements of Gardnerian Wicca. Several elements of the design of the underground use the same language early editions of Dungeons & Dragons. The story includes FBI and J. Edgar Hoover allusions. For the F/SF fan looking for forms no longer common in the genre or the RPG fan looking for less well known inspirations of the hobby it is a near must read.
For those looking for a good story, it is a good story.
Song of the Week
I admit this week's song is all about the video. It is not even the official video, but it celebrates the wonderful Mrs. Emma Peel. Emma was my first introdcution to the greatest of the Bond girls, Dame Dianna Rigg. Dame Rigg passed this week and too many headlines tied her to Game of Thrones.
Video of the Week
This past week was Star Trek day. I wrote about Star Trek in terms of genre and ownership, but Overlord DVD really captured what Star Trek means to so many of us.
---